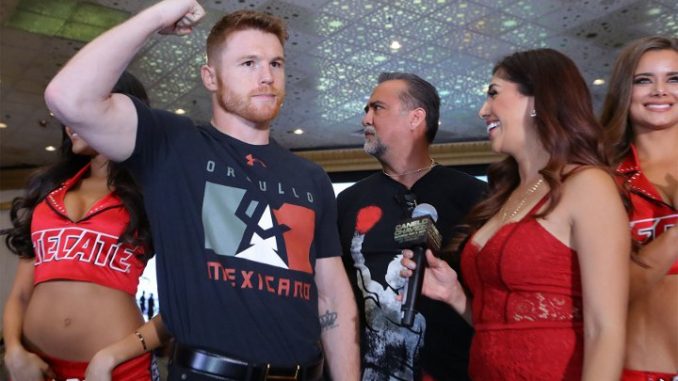 If you're a boxing fan you know Cinco de Mayo is one of the major weekends on the boxing calendar. Many thought (or hoped) that this would be the weekend where we would see the super fight between Saul "Canelo" Alvarez and Gennady "GGG" Golovkin. Well, one of the two isn't bad, right? Canelo will be fighting this weekend but fans will have to wait to see him square off against GGG. Instead, fans will have to settle for Canelo to face off against Julio Cesar Chavez Jr.
On the surface this doesn't have Fight of the Year potential but the quality of the fight will depend on Chavez Jr. Are we getting the Chavez Jr. who waits for one fight changing punch like when he fought Sergio Martinez? That would be a tremendous mistake because if he fights as poor as he did that night, Alvarez will knock him out long before the late rounds. Will he come in unmotivated like he did against Andrzej Fonfara? It was obvious he wasn't prepared, physically or mentally, after a long layoff. That loss cost him a big payday against Carl Froch.
The Chavez name has served him well and whether anyone wants to admit it or not, it's the reason why he's getting another spotlight fight. Despite all the problems Chavez Jr. has had, he claims to be motivated for the most important fight of his career.
"I'm very focused on this fight because it is a great opportunity for my career," Chavez said through a translator. "I feel great to be involved in this event and show the world I can beat anybody. This fight is special and has motivated me to train hard. On [Saturday] I will be 100 percent.
Perhaps his motivation stems from being docked a $1M per pound he's over weight, who knows? What we do know is conditioning has always been a problem for Chavez Jr. and perhaps that was the motivation for this fight being made. If Canelo was going to fight a bigger guy, why not one who has, at times, shown very little interest, and even less respect, for the sport.
This is why Chavez Jr's performance is so important. Canelo struggles against fighters who use movement along with a high technical IQ. It's why Mayweather Jr. dominated him and why he struggled with Erislandy Lara. Both also used the jab very effectively turning Canelo into a "thinker" not a boxer.
Chavez Jr. brings none of those problems with him to the ring. Knowing the boxing public has a weary eye when it comes to his opponent, Canelo needs Chavez Jr. to have a James Kirkland type performance. It will allow him and his team to claim that they beat a bigger fighter who was motivated to fight. Canelo can't let Chavez Jr's bad reputation become the story.
This fight has always been a major gamble for Canelo. Not because anyone thinks he has a realistic chance to lose but because there's a very small window for this to be truly thought of as a win.
Marcus "Mook" Washington is the host of Making The Cut. Follow Mook on Twitter: @mtcwithmook and IG: MTCWithMook